Knights' Athletics Results
MS GIRLS' TENNIS
9/13/21
It was a tough loss for the girls. We traveled to Cannon this afternoon and lost 2-7. Kate Champion at No. 2 Singles came from behind to win her match in a tiebreaker 8-8 (7-5). At No. 1 doubles, Eleina Moon and Kate won their match 8-4. The entire team played hard and they continue to improve each week.
Singles
1. Eleina Moon 1-8
2. Kate Champion 8-8 (7-5)
3. Tanvi Prabhu 3-8
4. Evie Niemeyer 0-8
5. Maura Zaccarelli 1-8
6. Hanna Jinex 0-8
Doubles
1. Moon/Champion 8-4
2. Prabhu/Niemeyer 1-8
3. Zaccarelli/Averi Buckler 0-8
MS FOOTBALL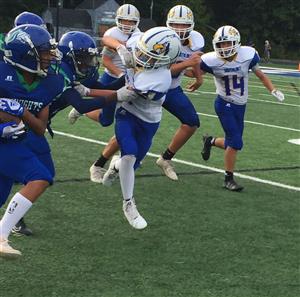 9/16/21
The Knights defeated the Southlake Christian Eagles 14 - 0 at home. It was 2nd shut out in a row for the Knights defense; they have outscored their opponents 42 - 0 in the last 2 games. The Knights started out by scoring on a touchdown pass from Ethan York to Drew Weber, putting them up 6 – 0. The second score of the game came after Eli Moore cause a fumble on a sack. A few plays later, Drew Johnson threw a touchdown to Dorian Morgan on a trick play right at the end of the second half. In the second half, the Knights held the Eagles from scoring thanks to an interception from Drew Webber, deep pass break ups from Andrew Matthews and Dylan Wignot, and numerous sacks from the defense, including a game ending sack from Josiah McGhee. The Knights are now 3 and 1.
MS BOYS' SOCCER
9/15/21
The Knights played the Charlotte Christian Knights at home. The LNC Knights' midfielder, TJ Picitto, scored in the second half, meaning he has back-to-back games with goals. Overall the team is showing solid defense and making more offensive opportunities. Striker Evan Cuis had a solid game supported by the midfielders who are really improving how they get the ball from offense to defense. In the end, the Charlotte Christian Knights won but it was an exciting and fun game.
9/14/21
The boys played Cannon to a 1-3 Loss. The Knights had a personal record of 5 shots, the same number as their opponent. The LNC goal was scored by Shreyas Polishetty. Outstanding performances by Tripp Burns and Lucas Hubert kept the game tight. Everyone on the team showed great sportsmanship and hustle the entire game and it was closer to a win than the score showed. Everyone is improving and working hard. Nice job guys!

HS VOLLEYBALL
9/16/21
The Lady Knights finished the week with another conference win over Central Cabarrus in 3 sets. Scores were 25-9, 25-7 and 25-7 which advance the Knights to 5-1 in conference and 9-1 overall. Molly Busse had 9 kills and 1 block followed by Sarah Turner with 5 kills and 3 blocks and Rachel Turner with 4 kills. Nyla Smith had 3 aces and 10 digs followed by Charley Henderson with 4 aces and 4 digs. Cadee Pierce had 23 assists for the match.
JV won their match in 2 sets with scores of 25-11 and 25-11, bringing them to 6-0 in conference and 10-0 overall!
9/14/21
The Lady Knights defeated Concord HS in 3 sets with scores of 25-14, 25-8 and 25-8. Sarah Turner had 17 kills and 2 aces followed by Reece Shore with 6 kills, 1 ace and 7 digs. Rachel Turner had 3 aces, 3 kills and 7 digs while Kayla Brooks added 4 kills. Cadee Pierce had 3 aces, 5 digs and 32 assists. Libero Nyla Smith had 16 digs and 2 aces.
9/13/21
The Lady Knights defeated Corvian in 3 sets with scores of 25-6, 25-9 and 25-6. The non-conference win advances the Knights to 7-1 overall.
The JV Knights also won in 2 sets with scores of 25-12 and 25-4, advancing to 8-0 overall.