HS Knights News - February 2, 2018
Principal's Coffee Chat and PTO Meeting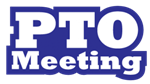 Tuesday, February 6, will be a very unique HS Principal's Coffee Chat. For the first time, there will be a cooperative juncture, combining these two events. The PTO Showcase will begin at 6:30pm in the HS MPR. We encourage parents to attend to hear about the tremendous work our PTO does across all three schools within LNC.
Spirit wear will also be available, in addition to light refreshments.
As always, the session will be live-streamed through Twitter/Periscope and archived on Mr. Smith's blog.

Congratulations LNC Scholastic Art Award Winners!
LNC's Art Department is proud to announce nine winners of the Scholastic Art Award from both HS and MS. This is the largest and most recognized student art competition in the country! Our students competed against around 2500 other NC students and LNC could not be prouder of our students who achieved greatness this year. Gold and Silver Key recipients will have their artwork displayed in various galleries in Uptown Charlotte for the next month.
The winners are:
Kylie Chan, HS, Silver Key for "Self-Portrait"

Kylie Chan, HS, Honorable Mention for "Emily"

Savannah Schroeder, HS, Silver Key for "Kylie"

Savannah Schroeder, HS, Honorable Mention for "Kennedy"

Christina Torres, HS, Silver Key for "In the Shadows"

Maya Dabney, MS, Gold Key for "La siesta"

Isabella Lairamore, MS, Silver Key for "Wavering Clock Tower"

Abigial Williamson, MS, Silver Key for "Mixed Media Music"

Anika Kolano, MS, Honorable Mention for "Cream Winter Scarf"
Congratulations LNC's 2018 Top 6 Seniors!
Top Seniors are nominated and voted on by the teachers and staff; we had over 30 Seniors nominated this year. GPA, athletics, extracurricular activities, and overall classroom performance and attitude are all considered in the Top Senior process. Winners will be featured in the Yearbook and recognized individually at Senior Awards Night. Congrats to all the nominees and to the winners!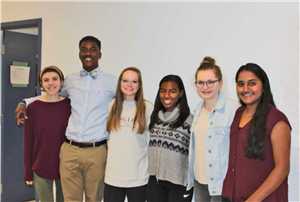 From left to right: Rachel Hull, Aaron Allen, Meg Cuttino, Sydney Thorne, Johannah Penner, and Charanya Uppalapati.

Congratulations LNC Band Members
A big round of applause to six of our LNC band members both HS and MS, Janais Phillips (12th grade saxophone), Mycah Johnson (9th grade snare), Aileen Enriquez (8th grade flute), Hailey Masterson (7th grade oboe), Sean Huynh (7th grade flute) and Spencer Stott (6th grade bass clarinet) who auditioned for the South Central All District Band.

Hailey Masterson was chosen as one of the top 4 students on her instrument and participated in the South Central All District Band this past weekend!

Saturday Knight Live Date Change
Please note the date change on the calendar for the annual Saturday Knight Live Talent Show. The date has been changed to Saturday, May 5. Please look for more information coming soon!
This Week in Pictures
See what students, teachers and parents are doing on campus this week!