HS Knights News - March 23, 2018
2018-2019 Course Selection - Action Needed
Course selection and online registration for the 2018-2019 school year has begun!
On Wednesday your 9th-11th grade student should have brought home a personalized letter with important information and instructions for you to create a parent account in PowerSchool. This account will allow you and your student to select courses and register online. The deadline for registering for courses is Friday, April 13.
We have many plans in place to assist our students and their parents as they choose courses and register online:
First, our counselors visited our students' classes earlier this week to answer course questions and introduce the online registration process.

Second, we have created video tutorials with detailed instructions on how to create a parent account in PowerSchool and register online.
We have also created a video that describes the class offerings by subject area. This video and the HS Curriculum Guide should help assist students and parents as they make their course selections.

Finally, although we will not be able to accommodate personal parent meetings during this registration period, your student's counselor will be available to you via email or phone and is always available to your student.
All of the above resources can be found in the HS P2P and Class of 2019, 2020 and 2021 Schoology groups under Resources and Registration.
Thank you for your support and partnership as we continue to grow and improve our school and our processes.
Student Information Forms
Your student brought home a copy of his or her Current Student Information Form that we currently have on file. Please review it, make any corrections, sign at the bottom and return it to school by Wednesday, March 28! Be sure to sign and return even if none of the information has changed.
Math Team Competition Results
Congratulations to the following students for their individual placements at the Western Carolina University Regional Math Finals competition:
Jacob Grinberg earned 1st place and Bhargav Vaduri earned 2nd place in Level 3 competition

Austin Blitstein earned 2nd place in Comprehensive

Ajay Pandya, Nat Nguyen, Nithya Sampath and Junior Sturt will be competing in the NC State Finals.
Both the Comprehensive and Level 3 teams will be competing at the NC State Finals. The Comprehensive NC State Finals will be held at the NC School of Science and Mathematics and the Level 3 NC State Finals will be held at UNC Asheville. Good luck to all of our LNC Mathletes!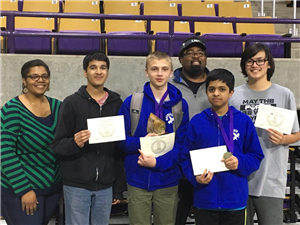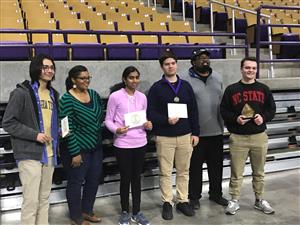 Want to Help Bring Poets to our HS English Students? You can!
Why cook at home next Wednesday night, March 28 when you can eat at Moe's at Northlake AND help bring live poets to our HS English students! Make sure to let them know you are from Lake Norman Charter.
PTO Needs Your Help
PTO is looking for a HS Lunch Parent Volunteer Coordinator for the 2018-2019 school year. All training will be provided and this role can be performed by one person or a team of two! So if you or anyone you know if interested in earning your Serve10 hours and being involved with the PTO please send an email to hslunches@lncharter.org.
This Week in Pictures
See what students, teachers and parents are doing on campus this week!