HS Knights News - May 4, 2018
Saturday Knight Live
Please join us for the annual HS talent show, Saturday Knight Live, tomorrow Saturday, May 5 at 7:00pm in the HS MPR. It will feature over ten student acts, including singing, dancing and music. Tickets are $5 at the door and we encourage everyone to come out and enjoy one of LNC's most fun and exciting traditions!



HS Cheerleading
Interested in HS Cheer for the 2018-2019 season? We would love to have you attend try-outs to continue our tradition of excellence. Try-outs will be held the week of May 14-17 after school from 3:00-5:00pm. Please visit our cheer website for more information and to fill out the google form for try-outs: http://lncscheer.weebly.com/try-out-information.html. We hope to see you there!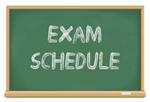 HS Exam Schedule
On Monday, May 7 we kick off exams at the HS, beginning with our advanced placement courses. Please click on the link below to see the dates and times for your student's exams. It is very important that your student attend school on his or her scheduled exam day and time. Students are not allowed to take any exams before the scheduled day. Please do not schedule any travel or appointments that conflict with your student's exam. We have designed the schedule to position your student for success by providing our teachers' time to review and students time to prepare. Remind your student to get good sleep the night before the exam and eat a healthy breakfast the morning of the exam. Thank you for supporting your student's success!
Newest Edition of the Roundtable
Please check out our Student Newspaper Club's final 2017-2018 school year edition of the Roundtable:
https://www.lncharter.org/cms/lib/NC02225560/Centricity/Domain/306/April_May_Newspaper_2018.pdf

Summer Coding Camp
Coding Within Reach is offering summer camps for students looking for more opportunities to learn coding. Please click here to view the flyer and how to register for summer camp.
This Week in Pictures
See what students, teachers and parents are doing on campus this week!