MS Knights News - November 9, 2017
Principal's Coffee Chat
All parents are invited to the Principal's Coffee Chat next Tuesday, November 14. The Coffee Chat is an opportunity to meet with administrators, ask questions, and hear updates of school happenings. Please join Dr. Graham and Mr. Bauer in the community room from 8:15 to 9:10am. Coffee and a breakfast snack will be available. This will be our last Coffee Chat of 2017.

Knights of Honor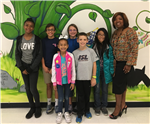 Congratulations to the Knights of Honor for November! These students have been selected by their teachers for displaying good character, exceptional effort, a positive attitude, and performing acts of service. Pictured with Dr. Graham are (back row, l-r): Semiya Bishop, Malanah McDonnell, Megan Dawson, Samantha Sergi, (front row, l-r) Sofia Grace Moreta and Carter Noel.


Last Chance for Father/Daughter Dance Tickets
Due to popular demand and an increased capacity for guests, the PayPal button to purchase tickets to this annual MS event has reopened! Once ticket sales reach guest capacity we will close the button so please don't delay!

Annual Toy Drive
The Builders' Club will be sponsoring our annual Toy Drive from November 1 to November 30 to benefit the needy children attending the Christmas party held by the Angels and Sparrows Soup Kitchen. If you would like to donate a new toy for children between the ages of 1-16 years, please have your child drop the gift off in the hall outside the MS office into the big, black bins. They do not need to be wrapped. Thank you for supporting a very worthy cause!
All Pro Dads
All Pro Dads is an opportunity for middle school dads and kids to meet in the MS cafetorium for a quick, before-school breakfast and a 45-minute program of fatherhood and family topics. The next meeting is Thursday, November 16 at 7:00am. Please RSVP here with your breakfast order by November 13. Please be prepared to pay in cash ($3 per meal) on the morning of the breakfast. Bojangles breakfast choices are: sausage biscuit, spicy chicken biscuit, or BoBerry biscuit, and coffee, water or OJ.
Yearbook Deadline
Tomorrow November 10 is the last day to order your LNC MS yearbook at the price of $35. The price rises to $40 after tomorrow so don't delay! Orders can be placed at jostens.com.
PJ Day
Be warm and cozy in your PAJAMAS all day long on Friday, November 17 for the cost of $2.00. Pay your money in the morning carpool to the Builders' Club members or advisors who are collecting. Thank you for supporting these Builders' Club fundraisers. All of the proceeds go toward helping someone in need.
LNC PTO Partnership with Shoparoo
Shop > Snap > Earn...It's that simple! Download the free app and select LNC as your school when you register. Snap pictures of your receipts from almost any retailer including grocery stores, pet suppliers, restaurants, home improvement depots and more, to earn money for the school. Every receipt counts so snap away!

This Week in Pictures

See what students, teachers and parents are doing on campus this week!