MS Knights News - January 12, 2018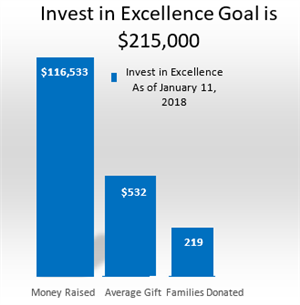 Invest in Excellence Update
Thank you to our families who have partnered with us * so far to continue to provide the education for our students that we have all come to expect. If you have not yet made a gift, please consider doing so here or establishing a monthly recurring gift here.
*We respect the wishes of our families that choose to make their donation anonymous. To allow time to make that choice, we wait to recognize donors two weeks after the thank you letter is mailed. All thank you letters were mailed this week for gifts made over the holiday break.

Principal's Coffee Chat
All parents are invited to the Principal's Coffee Chat on Tuesday, January 16. The Coffee Chat is an opportunity to meet with administrators, ask questions, and hear updates of school happenings. Please join Dr. Graham and Mr. Bauer in the community romm from 8:15 to 9:10am. Coffee and a breakfast snack will be available.
Winter Cheer Clinic
The LNC Cheerleaders are hosting a Winter Cheer Clinic on Saturday, January 20. This will run from 8:30am-12:00pm and will be held in the HS MPR. We would love to have your child attend for a day of cheers, chants, dances, and fun! In addition to the clinic on January 20, participants will also be invited to attend and perform at the HS Women's Varsity basketball game on Friday, January 26! Please click here to see the form for more information, and feel free to contact us with any questions at lncscheer@gmail.com. Thank you!
Father/Daughter Dance Announcements
Thank you to everyone who purchased tickets early to the Father/Daughter dance on January 25 at Magnolia Woods from 7:00pm-9:00pm. Take a hiatus from the winter cold and enjoy our winter getaway with some tunes from DJ Cap'n Sam while wearing your Hawaiian shirts/skirts. We will be offering raffle tickets for this year's newest American Girl Doll of the Year, a space-and-science-obsessed girl named Luciana Vega (only available since January 1st). Pictures are still available for purchase at the dance, if you did not purchase in advance.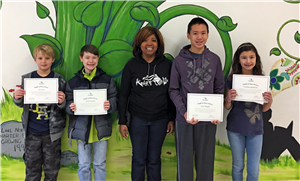 Knights of Honor
Congratulations to the Knights of Honor for January! These students have been selected by their teachers for displaying good character, exceptional effort, a positive attitude, and performing acts of service. Pictured with Dr. Graham are, left to right: CJ Lord, Jack Everhart, Sean Huynh and Penelope Goldstein.
This Week in Pictures
See what students, teachers and parents are doing on campus this week!