MS Knights News - March 23, 2018
2018-2019 Course Selection - Important Information
Course selection and online registration for the 2018-2019 school year has begun!
On Wednesday our 6th-8th grade students brought home a personalized letter with important information and instructions for you to create a parent account in PowerSchool. This account will allow you and your student to select elective courses and register online. The deadline for registering for courses is Friday, April 13.
Please note that no registration is required for our current 5th grade students.
We have many plans in place to assist our students and their parents as they choose their elective courses and register online:
All of the above resources can be found in the MSP2P and Class of 2024, 2023 and 2022 Schoology groups under Resources and Registration.
Thank you for your support and partnership as we continue to grow and improve our school and our processes.
Student Information Forms
Your student brought home a copy of his or her Current Student Information Form that we currently have on file. Please review it, make any corrections, sign at the bottom and return it to school by Wednesday, March 28! Be sure to sign and return even if none of the information has changed.
Attention 8th Grade Families
We are providing extra support for our 8th grade students as they make important decisions about their high school schedules. Mrs. Stein spoke with them last week and this week they were visited by HS counselor Mr. Porter and were shown a video describing the high school course offerings. Additionally, we are offering Rising Freshman Course Selection Night on Monday, March 26 at 6:30pm in the HS MPR. Our 8th grade students will receive valuable information that night which will guide them as they select their 2018-19 courses. Please plan to attend with your 8th grade student.
Math Team Competition Results
Congratulations to the following MS students for their individual placements at the Western Carolina University Regional Math Finals competition:
Sean Huynh and Devin Buckler tied for 1st place and Nikhil Sampath earned 3rd place as the Level 1 team swept all three top individual spots.

Mason McElroy earned 1st place, Jeeya Shah earned 2nd place and Raghav Sriram earned 6th place in Level 2 team competition.
All six of these students will be competing in the NC State Finals at UNC Asheville. Good luck to all of our LNC Mathletes!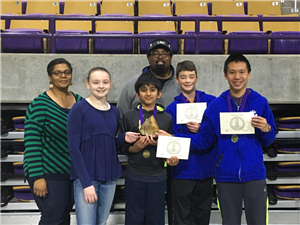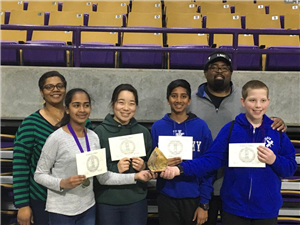 Congratulations to the FBLA Club
Middle school members of Future Business Leaders of America spent three days in Greensboro attending workshops, presenting and participating in different FBLA events. Caleb Herron placed in the top 10 in the state for Computer Slideshow and Jamison Painter placed in the top 10 in the state for the FBLA creed.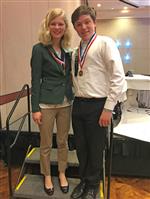 Interested in MS Cheerleading?
There will be a meeting for students interested in trying out for the 2018-19 MS cheerleading team on Monday, April 9 from 3:05-3:15 in room 714. If you have any questions, contact Mrs. Tedder at KTedder@lncharter.org.

This Week in Pictures
See what students, teachers and parents are doing on campus this week!