HS Knights News - November 9, 2017
Class Ring Ceremony
LNC's annual Class Ring Ceremony is Monday, November 13 at 6:30pm in the HS MPR. This ceremony is a tradition at LNC and we hope that all students who purchased a class ring last year will attend!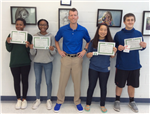 Knights of Honor
Congratulations to the high school Knights of Honor. These students are identified for demonstrating a strong work ethic, citizenship, improvement, or serving as a role-model for their peers. Pictured with Mr. Smith are, left to right: Madison Kerry, Sarai Genece, Lauren Chi and Colton Dryman.

Service Requirements
At Lake Norman Charter our motto is, together we learn, lead and serve. But a motto, mission or value statement is only words on paper unless it is lived through actions, attitudes and choices. That is why our high school has a service requirement that supports our motto and provides students the opportunity and encouragement to perform service in their community. High school students are required to perform a minimum of 2.5 hours of service per quarter for a total of 10 hours per school year. Service is defined as a physical act of goodwill that is done outside of the student's home and without compensation or gain. We offer students opportunities to fulfill their service hours here on campus, however, they can also meet the requirement through a club or organization that they are already involved with such as Scouts, Student Council or their place of worship. Furthermore, if a student is already required to perform service hours through an organization that they are part of, including an LNC organization such as a sports team or NHS, they can use those same hours to count toward this school requirement.
Students track, validate and submit their hours through this service form. Students then submit their completed Service Forms to their 7th period teacher. Students can submit their Service Forms at any time during the school year, however, we strongly encourage students to do so at the end of each quarter. Service learning will be recorded on the final student report cards and transcripts as a pass/fail grade. If you have questions regarding the specifics of this program, please contact Mr. Craig Smith, HS Principal, at csmith@lncharter.org.
Leadership in Action next Wednesday
Our next Leadership in Action session occurs next Wednesday afternoon, November 15. Our freshmen class of 2021 will be returning to the same classroom, teacher and group of classmates as they did in September. They will continue to work on the skill of Collaboration and Communication which was introduced to them during the first session. This second session will be used as a workshop where the students are given time to work on their skill reflection with the help of their peers and leadership advisor (teacher). This reflection will become the beginning of their electronic portfolio which will be completed at the end of their junior year. Remember, we are piloting our HS component of Leadership in Action with this group of 9th grade students. Our 10th-12th grade students will be engaged in other relevant activities that help sharpen and reinforce their emerging leadership skills. Our juniors and seniors will be hearing from a young speaker and recent UNC graduate, Austin Helms, about a very interesting and relatable topic: Orientation to Graduation. For more on our Leadership in Action program, click here.
French Honor Society Thanks You
Bonjour! Salut! French Honor Society and French Club have been celebrating National French Week by sharing francophone facts, food, and experiences. Please ask your student what they have learned, seen or experienced this week. Thank you students and families for your support of the FHS bake sale and croissant sale as the FHS raised over $1,000 to continue our support of the Jérémie Orphanage in Port-au-Prince, Haiti!
LNC PTO Partnership with Shoparoo
Shop > Snap > Earn...It's that simple! Download the free app and select LNC as your school when you register. Snap pictures of your receipts from almost any retailer including grocery stores, pet suppliers, restaurants, home improvement depots and more, to earn money for the school. Every receipt counts so snap away!
This Week in Pictures
See what students, teachers and parents are doing on campus this week!