HS Knights News - January 12, 2018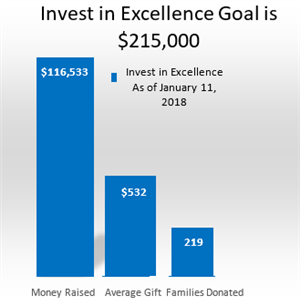 Invest in Excellence Update
Thank you to our families who have partnered with us * so far to continue to provide the education for our students that we have all come to expect. If you have not yet made a gift, please consider doing so here or establishing a monthly recurring gift here.
*We respect the wishes of our families that choose to make their donation anonymous. To allow time to make that choice, we wait to recognize donors two weeks after the thank you letter is mailed. All thank you letters were mailed this week for gifts made over the holiday break.
HS Band Concert
Please join us tonight, Friday, January 12, for the HS Band concert at 7:00pm in the HS gym.
Attention Student Drivers
It is time to renew your parking pass for 2nd semester. After reviewing your grades (report cards were sent home today Friday, January 12) and confirming you qualify (2.0 GPA for 1st semester and passing all classes, including CPCC), please click here or go to the HS PayPal portal on the LNC website to pay your $50 renewal fee. Starting Tuesday, January 16, bring a copy of your PayPal receipt and your original report card to the HS office either before school, during lunch or after school. All parking passes must be renewed by Friday, January 19.

This Week in Pictures
See what students, teachers and parents are doing on campus this week!