HS Knights News - February 9, 2018
Leadership in Action
February 14 is the third session of LNC's Leadership in Action™ program. During the first two sessions, our 9th graders learned and reflected on the 1st skill - Communication and Collaboration. On Wednesday, the 9th graders will discuss the 2nd skill - Integrity and Accountability. The goal of the LIA program is to highlight and personalize the understanding of life-long skills that will help our students be successful while attending LNC and beyond https://www.lncharter.org/Page/1674. Even though the pilot program only involves the 9th grade, other important leadership and preparation events take place for our 10th-12th graders during each LIA day. Former Olympian and LNC Swim Coach Roy Burch will share his leadership experience with the 10th grade. 11th graders will meet to learn more about the next steps in finding and getting accepted into college. In addition, the 12th graders will focus on getting connected and prepared for college. The next Leadership in Action™ day is April 18. If you have any questions regarding Leadership in Action™, please send an e-mail to leadership@lncharter.org. You can also find information on the LNC website as well as follow us on Twitter @LNCLIA.
Knights of Honor
Congratulations to the HS Knights of Honor for January! These students are identified for demonstrating a strong work ethic, citizenship, improvement, or serving as a role-model for their peers. Pictured with Mr. Smith are, left to right: Jack Esposito, Zach Perrott, Borbala Kalina, Will Chiappetta, and Brandon Webster.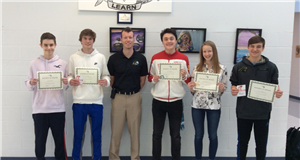 LNC Honor Roll
Congratulations to the students on the LNCharter honor roll for the second quarter, 2017-2018 school year. Click here to view the honor roll list.

Thank You PTO and Parents!
The HS faculty and staff thanks all of our families for the wonderful February Staff Appreciation Luncheon last Friday. We are so grateful for our PTO arranging this lunch and our parents' involvement to make this happen!
Saturday Knight Live Date Change
Please note the date change on the calendar for the annual Saturday Knight Live Talent Show. The date has been changed to Saturday, May 5. Please look for more information coming soon!
This Week in Pictures
See what students, teachers and parents are doing on campus this week!