HS Knights News - March 16, 2018
2018-2019 Course Selection - Action Needed
We are excited to roll out online course registration for the 2018-2019 school year for current 9th-11th grade students. We expect this online method to make the registration and scheduling process more efficient for both our administration and families.
The first step is for parents to create a parent account in PowerSchool, the state's student information system. Next Wednesday, March 21 current 9th-11th grade students will bring home a personalized letter with instructions and important login information so this task can be completed. PLEASE ASK YOUR STUDENT FOR THIS LETTER. Once a parent account is created in Powerschool, the student/parent team may register for courses. The deadline for registering is Friday, April 13.
We have many plans in place to assist our students and their parents as they choose courses and register online:
First, our counselors will visit our students' classes next Monday and Tuesday to answer course questions and introduce the online registration process.

Second, we have created video tutorials with detailed instructions on how to register online as well as short videos describing our courses to help our students choose. These videos will be stored in the HS P2P and Class of 2019, 2020 and 2021 Schoology groups next week.

Finally, although we will not be able to accommodate personal parent meetings during this registration period, your student's counselor will be available to you via email or phone and is always available to your student.
Thank you for your support and partnership as we continue to grow and improve our school and our processes.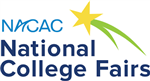 Charlotte National College Fair - This Sunday!
The Charlotte National College Fair will be held on Sunday, March 18 at The Park Expo and Conference Center from 12pm-4pm. If your HS student is interested in obtaining more information on more than 200 colleges, then this is the fair for you! Please click here to register and see the list of participating colleges.

This Week in Pictures
See what students, teachers and parents are doing on campus this week!