ES Knights News - May 11, 2018
Construction News from Principal Holland
Some exciting news to share! Construction for the new ES building will begin taking place the week of May 14. Parents will start seeing construction equipment on our campus this week in anticipation of the next several months. More importantly, parents should be aware that the exit to our campus will be blocked for about a month except during morning and afternoon carpool (8:00-8:30 and 3:30-4:00). Anyone visiting the campus during non-carpool hours will need to exit the campus using the right lane (of the entrance) when coming from our parking lot. Please use extreme caution when entering our campus during non-carpool hours. Again, this is only for the first month of construction.
Our builder, G.L.Wilson, is extremely experienced with building schools and understands all of the variables that come with building next to an operating school. The construction staff and moving equipment will be behind (the soon-to-be constructed) fence and never near our children. Please note that their normal procedure is that all construction staff have been background checked as safety always comes first. Principal Holland has been involved in all meetings with the building company and has met the project manager who will be on site every day and we have confidence this will be a great partnership over the next several months! Thank you, parents, for making this dream come true so soon!
ES First Annual Art Show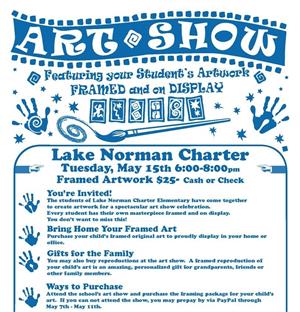 Please join us Tuesday, May 15 from 6:00pm-8:00pm in the MS gym to celebrate the creative artwork of our youngest Knights. We are very excited to give our ES families the option to purchase their student's professionally framed and ready-to-hang artwork this year for $25. There are three options available for purchase:
Pre-purchase your students artwork by clicking here to avoid lines during the art show. The pre-purchase PayPal button will only be available until this Sunday, May 13.

Purchase your students artwork at the artshow. ONLY cash or check will be accepted on the night of the event, NO credit cards please.

Post-purchase is available for those who missed the prepay window and the event. You may send in a check ONLY for $27 with your child through Thursday, May 17. Please make checks payable to Lake Norman Charter School.
2nd Grade Pirate Performance
2nd grade students are getting excited and practicing hard for their upcoming musical performance Pirates on May 22 in the HS MPR. Students should arrive at 5:45pm and be dropped off in the HS chorus room. The performance will beging at 6:30pm with the door opening for seating at 6:15pm. If you have any questions, please email Ms. Spearman at mspearman@lncharter.org.

Knights of Honor
Congratulations to the elementary school Knights of Honor for May. These outstanding students, pictured with Ms. Holland, include Nolan Walters, Vivian Burdette, Luke Good, and Anna Carlberg. Recipients of this award have been nominated by a teacher for showing exceptional effort, good character, acts of service, leadership attributes or a positive attitude.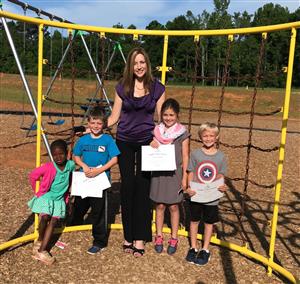 Angels and Sparrows Food Drive
ES staff and students are excited to join the MS Builders Club in their annual food drive to help the Angels and Sparrow Summer Lunch Program. The food drive will take place between May 21 and May 31. Please do NOT send in any donations prior to the first day of collection. A box will be designated in each grade building and will be collected and counted daily. ES students will be collection fruit snack/rollups (Kindergarten), crackers/spreadable cheese packs (1st grade), Nutella with bread sticks (2nd grade). Thank you in advance for your participation in this project!

Order your 2018-2019 School Supplies
The end of this school year may be fast approaching, but we are already planning ahead for the 2018-2019 school year. LNC offers the EduKit program as an easy option to purchase school supplies for the upcoming 2018-2019 school year. Each kit contains exactly what your child's grade-level teachers have requested and will be in the classroom on the first day of school! Click here to view the flyer for information regarding ordering your EduKit! Please place your orders before June 20 for BEST pricing and FREE shipping. If you have any questions regarding these kits please email Lan Kolano at lan.kolano@gmail.com.
This Week in Pictures
See what students, teachers and parents are doing on campus this week!