MS Knights News - March 16, 2018
2018-2019 Course Selection - Important Information
We are excited to roll out online course registration for the 2018-2019 school year for current 6th-8th grade students. We expect this online method to make the registration and scheduling process more efficient for both our administration and families.
The first step is for parents to create a parent account in PowerSchool, the state's student information system. Next Wednesday, March 21 current 6th-8th grade students will bring home a personalized letter with instructions and important login information so this task can be completed. PLEASE ASK YOUR STUDENT FOR THIS LETTER. Once a parent account is created in Powerschool, the student/parent team may register for courses. The deadline for registering is Friday, April 13.
We have many plans in place to assist our students and their parents as they choose courses and register online.
We have created video tutorials with detailed instructions on how to register online as well as short videos describing our elective courses to help our students choose. These videos will be stored in the MS P2P and Class of 2024, 2023 and 2022 Schoology groups next week.

Also, next Friday, March 23 at 8:15AM in the MS Community Room we are offering a course registration Q & A with Dr. Graham and HS Assistant Principal Funchess.
Attention 8th grade families
Since our 8th grade students are making important decisions on their high school schedules, we are providing extra support for them. Superintendent Stein spoke with them yesterday about the transition to high school and the importance of making sound decisions regarding their schedules and other high school choices. Next week some high school students will visit their classes to answer questions and address any of their concerns about high school. Finally, we are offering Rising Freshman Course Selection Night on Monday, March 26 at 6:30PM at the HS MPR. Our 8th grade students will receive valuable information that night which will guide them as they select their 2018-19 courses.
Thank you for your support and partnership as we continue to grow and improve our school and processes.
Interested in MS Cheerleading?
There will be a meeting for students interested in trying out for the 2018-19 MS cheerleading team on Monday, April 9 from 3:05-3:15 in room 714. If you have any questions, contact Mrs. Tedder at KTedder@lncharter.org.



Do You Have Old Eyeglasses?
The Builders' Club is collecting used eyeglasses in good condition to give to the Lion's Club. Donated glasses will be refurbished and given to people who need eyeglasses but cannot afford them. If you would like to contribute used eyeglasses, please wrap them in a clean cloth (nothing fancy) to protect them from getting broken, and have your child place them in the box on the main hallway. The collection cycle runs from March 7 until Spring Break. Thank you, Caroline Rucker, for this idea!

Summer Cheer Camp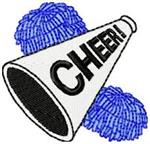 Starting to make summer plans? The LNC Cheerleaders are offering 2 Kids Cheer Camps this summer. These camps run from 9am-12pm and are great for all ages. Participants will spend time learning basic cheer motions, cheers, chants, jumps and dances among many other skills! In addition to a great week of camp with friends, participants are also invited to attend a Varsity Football game in the fall and cheer between quarters on the track with the HS girls. Please click here to complete the registration form. We would love to have you attend and join us this summer! Please feel free to e-mail lncscheer@gmail.com with any questions.

This Week in Pictures
See what students, teachers and parents are doing on campus this week!